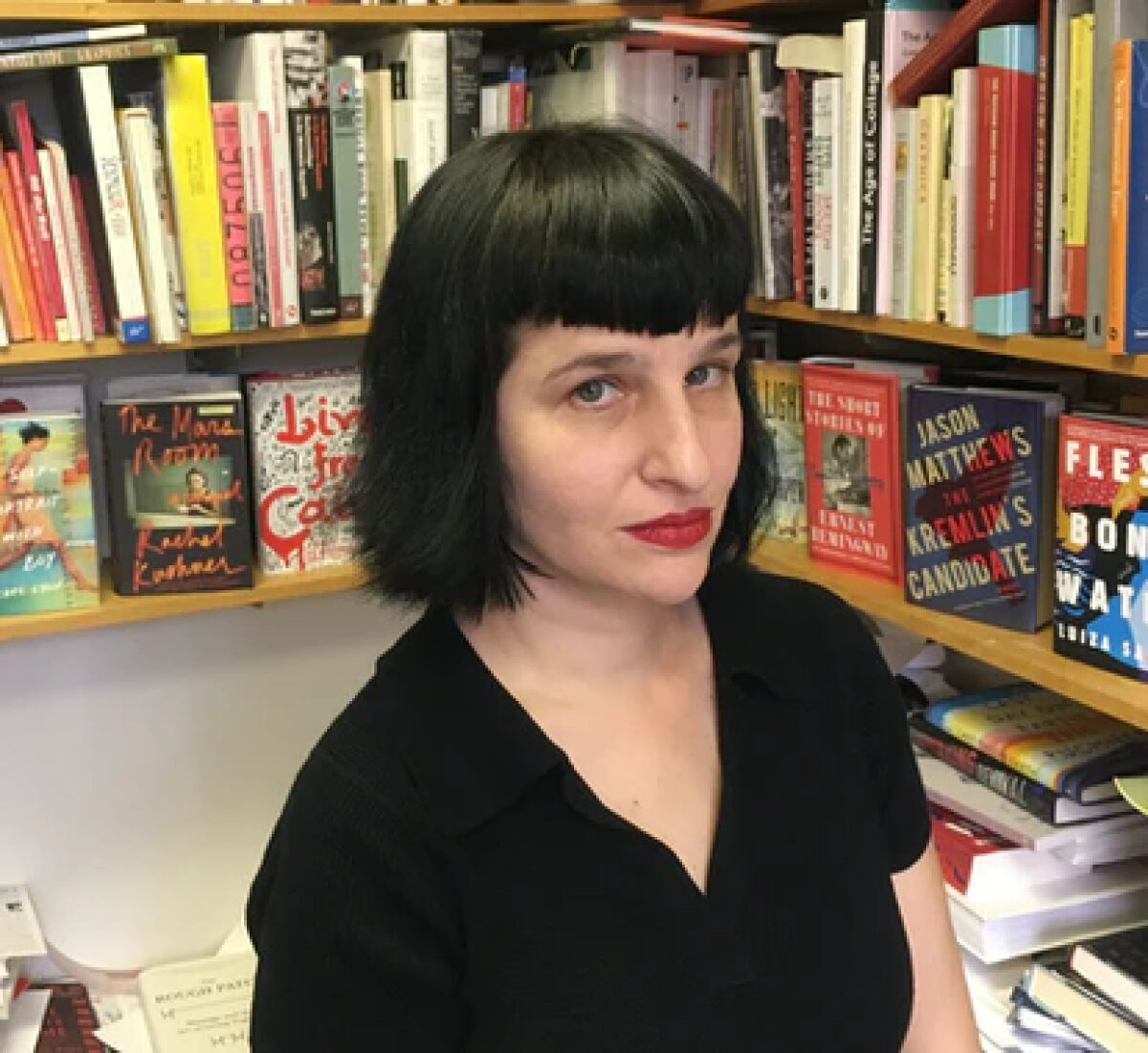 Jaya Miceli: Thrilled to be a part of it
WRITTEN BY: Ian
April 23rd, 2010
---
Recently, someone asked me what I hope to get out of interviewing all these designers, and my gut told me this one simple thing: these designers need to be documented. One of my biggest frustrations as a designer is that I often look up other designers of the past on Google, only to find the search results yield either nothing or a very limited (not to mention shameful) selection of their work. Certain designers need to at least be interviewed simply because it's too easy to inadvertently overlook their individual contributions.

Certainly, most interviews with designers don't offer up any new information. Debbie Millman's How to Think Like a Great Graphic Designer is perhaps the closest series of interviews I've found to be both educational and inspirational on levels that most other interviews do not reach.

My point is that many of the questions and answers in these types of interviews are similar. I realize that. But the work—the interpretation of each designer and the way each designer treats a variety of subjects—is so very unique.

Trends and styles exist in many designers' work, but one of the common factors I find among good designers is that following a trend is the last thing they wanted. Instead, they aimed to solve a unique problem in a new way. And whatever emerged from that, stylistically, is secondary to the primary goal.

The other thing that is interesting to me, especially about book design, is that there's a fine line between answering your own call as an artist and having someone dictate to you what to do commercially at every step. We have a job to accomplish, but that job does allow for a little bit of what keeps us going every day: our own artistic expression and interpretation.

Jaya's work has always caught my eye. Every cover is so delightfully different and perfect for its subject. And though I know she enjoys some great fellow employees and bosses, I also know when I see a cover that my eyes can't resist. Then I see that Jaya Miceli designed it—well, then it all makes sense. Of course. It's a Miceli.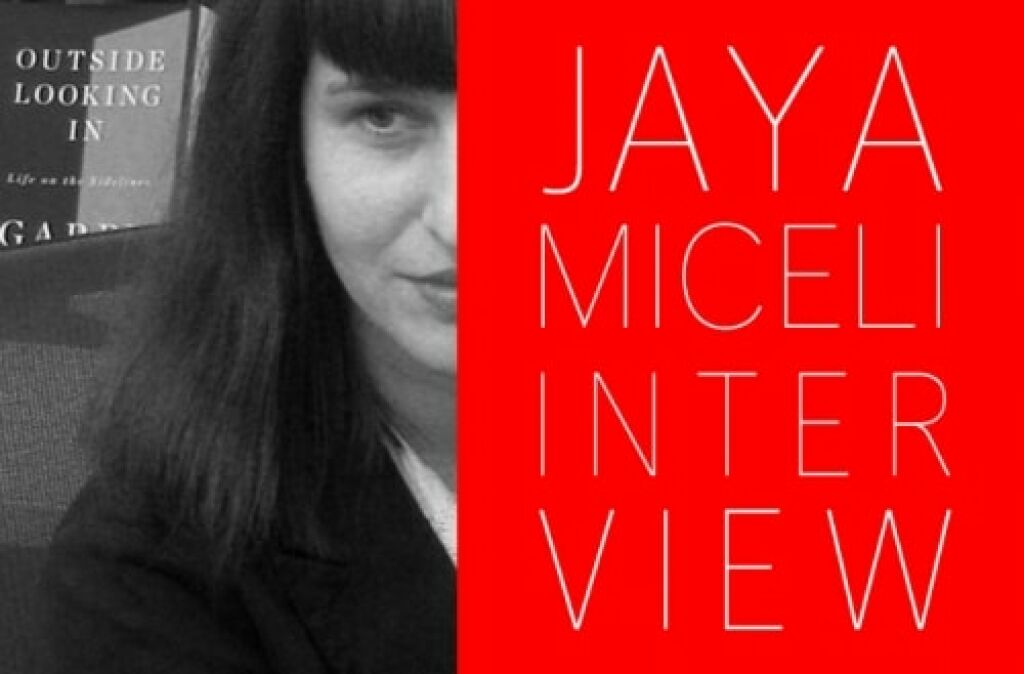 What year did you finish your design education at Parsons The New School for Design?
One never asks a lady her age. I actually went to Parsons for illustration. I don't know why "illustration" is a major, as if you need a major to learn to draw. You can either draw or fake the drawing skill.
If I had known better, I would have gone to law school so I could make real money. But the voice of that damn Joseph Campbell, the well-known American intellectual, kept resonating in my head to "follow my bliss," so I pursued the arts.
A few years after graduating, it was really hard to get the freelance illustration thing going, so I kept myself financially afloat by working in a retail chain clothing store in a Manhattan mall, a job that to this day still gives me horrific nightmares.
But at some point during that period, I somehow managed to get a few illustrations published in The New Yorker. I really sucked at being a self-promoter to get more freelance illustration work. That, combined with the hopeless desperation I felt working the retail job, led me to take some computer classes. I got a certificate in desktop publishing at The New School with hopes of finding a design job in book publishing.
Dreams do come true, and soon after earning the certificate, while temping, I heard through a friend about a junior design position at Penguin. Fortunately, I landed the job.
So basically, I learned to design books on the job and have been able to use my own illustrations on covers as well. It's a never-ending learning process, as I've gathered in the 10 years I've worked at Penguin. I'm still not making the kind of money I would be had I gone to law school, but I am following my bliss. Thank you, Mr. Campbell.
What are some examples of your illustrative work on covers?
Petropolis, Salt, The Prince, People of the Book, Saffron Kitchen, Map of Home, All Other Nights, In Other Rooms, Other Wonders, and Life After Genius.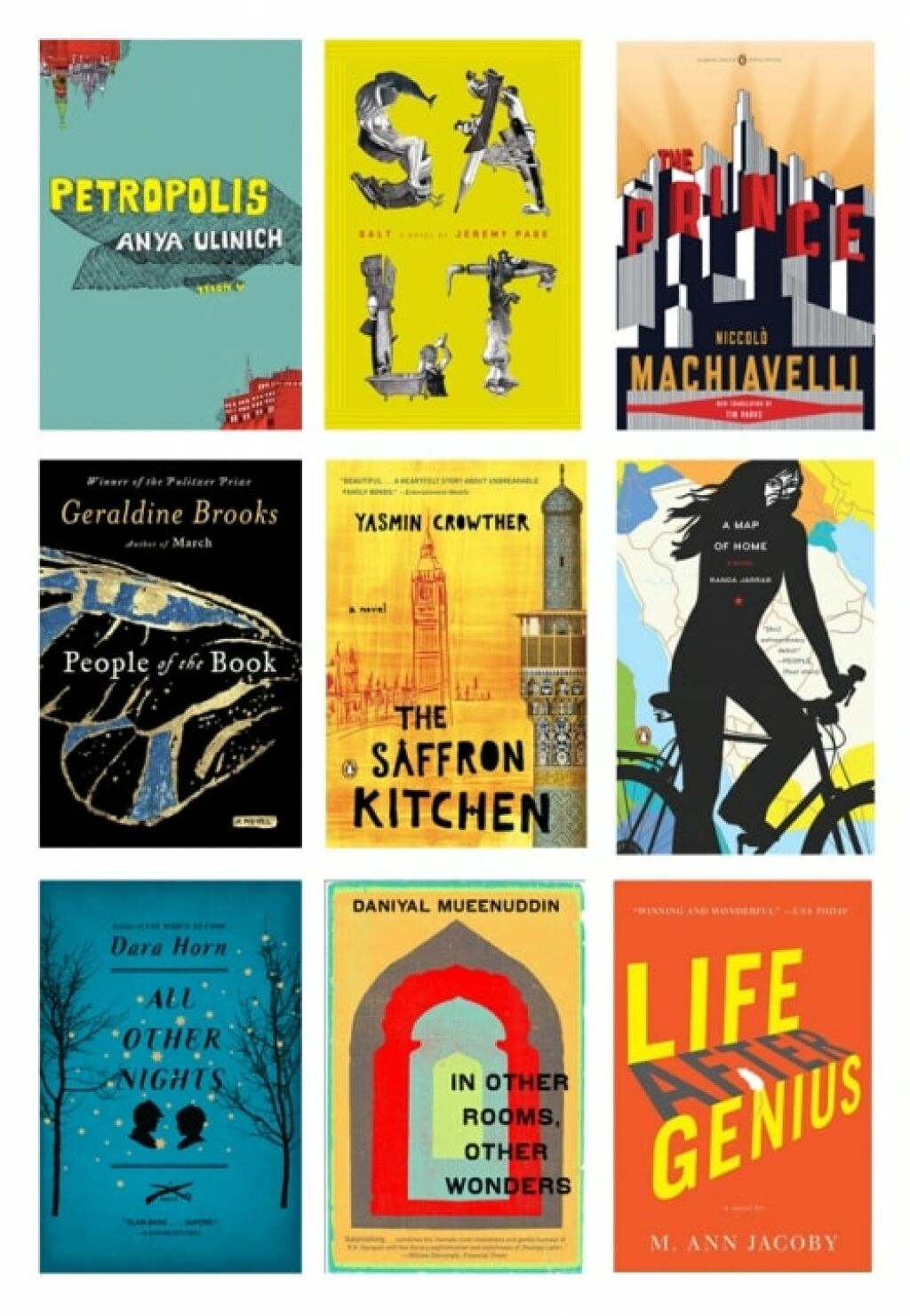 Are you a New York native?
Yes.
In what part of Brooklyn do you live?
I just moved to Cobble Hill, but I grew up and lived in Sunset Park for most of my life.
Do you work primarily out of your place, or do you commute to work in Manhattan every day?
I work in the Penguin offices in New York City during the day.
Do you freelance occasionally?
I've been doing a lot more freelance, which is really fun – it's liberating to do work for other publishing houses. I can break some of the design rules our publishers here have enforced upon us and use those ideas for other publishing companies
Where did you get your start? Was it always book covers?
Back in my down-in-the-dumps depressed retail days, I had an epiphany one day: "You love to read books, and you love the designs on book covers. Why not work in book publishing and design book covers?" Wow, and such a thing is possible.
Are you an art director at Penguin, or do you work under a host of other ADs?
I am a senior designer for the Viking and Penguin imprints. I work for Paul Buckley, the creative director at Penguin. Aside from giving me several books to design per list, Paul has afforded me the opportunity to art direct, which is a different kind of challenge. It's exciting to select and work with other designers, illustrators and photographers on projects. I have also been given a new science imprint to manage with Joseph Perez at Penguin, called CURRENT.
What are some of your favorite recent projects, and why?
I recently worked on a Garry Wills' book that required an all-type design. It really pushed me away from the hand-drawn, illustrative look that my work usually tends to have, and toward a more minimally graphic and type-oriented look.
Do you ever get tired of slapping that silly little Penguin logo on the cover?
No. I think designers have been clever with the placement of the Penguin logo. I love how it is sometimes beautifully incorporated as a design element on the cover.
Can you show us an example of a clever way in which you used the infamous logo?
Well, I don't know if I have used it in a clever way, but I liked the way it fit into The Rug Merchant design.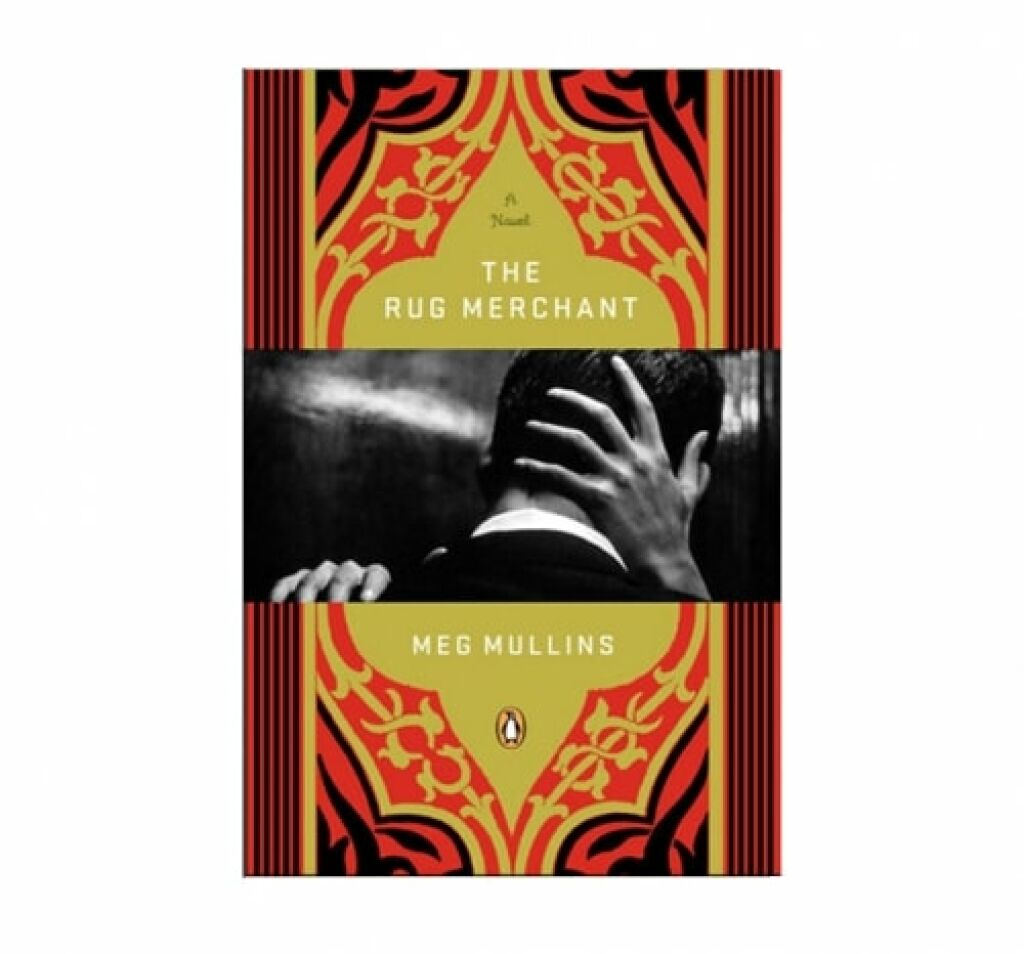 What are some things you do to get into a project? Is there a method to the madness?
It's different every time for every book. Is there a method? I don't know. Trial and rejection? I try to sketch ideas out first, and then actually piece it all together on screen. I like to give myself the time to scrap, alter or refine the design, based on how I see it in the next day or hour. It's usually the happy accident that works the best.
Any major influences or sources of inspiration in your work?
Oh, there are so many. It's like thanking people at the Oscars, and then the music comes on.
My first influences are artists such as Max Beckmann and Richard Diebenkorn. I also love Ben Katchor's work. Additionally, I've been a collector of vintage clothes, purses, lamps, jewelry and furniture, so I like vintage stuff and try to incorporate a vintage look in a contemporary way into my design work. In the book-design world, there are so many sources of inspiration from past and contemporary book designers everywhere – too many to list them all.
Do you read every book you design for? If so, what do you look for in the text that informs your solution? Do you tend toward illustrating a moment in the book, or do you try to capture more of the mood of the piece through abstraction?
Yes, I do read every book. It's hard to describe the process of designing because it can be really hard, especially at the beginning of the new seasonal list. It always starts out with me thinking, "How do I do this again?" Talking with someone about the book before working on it helps me come up with ideas and imagery. I try to capture an overall meaning or mood of the book, and I try to keep the design simple.
Aside from Design: Related, you don't seem to be involved with many social networks such as Facebook or Twitter. Are you opposed to the mediums, or is social networking simply not for you? Obviously, for many designers, social networking allows them to stay in touch with the larger community of designers out there, and also to forge connections and friendships with folks they otherwise wouldn't know, due to distance and other isolating factors.
I don't know; it never really caught on with me. I'm old-fashioned, I guess. I keep a small circle of friends who know my personal life. Design:Related makes sense to me. I want to know and be known by the people in my field.
Do you take advantage of New York's rich art scene, frequenting the various museums and galleries?
Because I grew up in New York, that's all I ever did since high school. Now that I've been a mom for two-and-a-half years, I mostly go to parks and chase my son around the jungle gym on the weekends.
Do you prefer to collaborate or work alone?
I tend to work alone, but I'm not opposed to sharing and developing concepts with people. It really helps.
Are there any examples of great collaborations that you can share?
I work with great designers at Penguin, and their design advice has always been invaluable and influential in regard to whatever I'm working on.
Currently, the Gaslight Crime project and The Penguin Book of Victorian Women in Crime are my collaborative efforts. For the Gaslight Crime project, the overall concept of stealing the Penguin logo was Paul's idea. Jen Wang was working on the cover design, and she asked me to work on the illustration. I almost forgot to work on the project altogether; I drew the hand on the subway on the way to work the day of the Penguin art meeting, when the cover had to be presented.