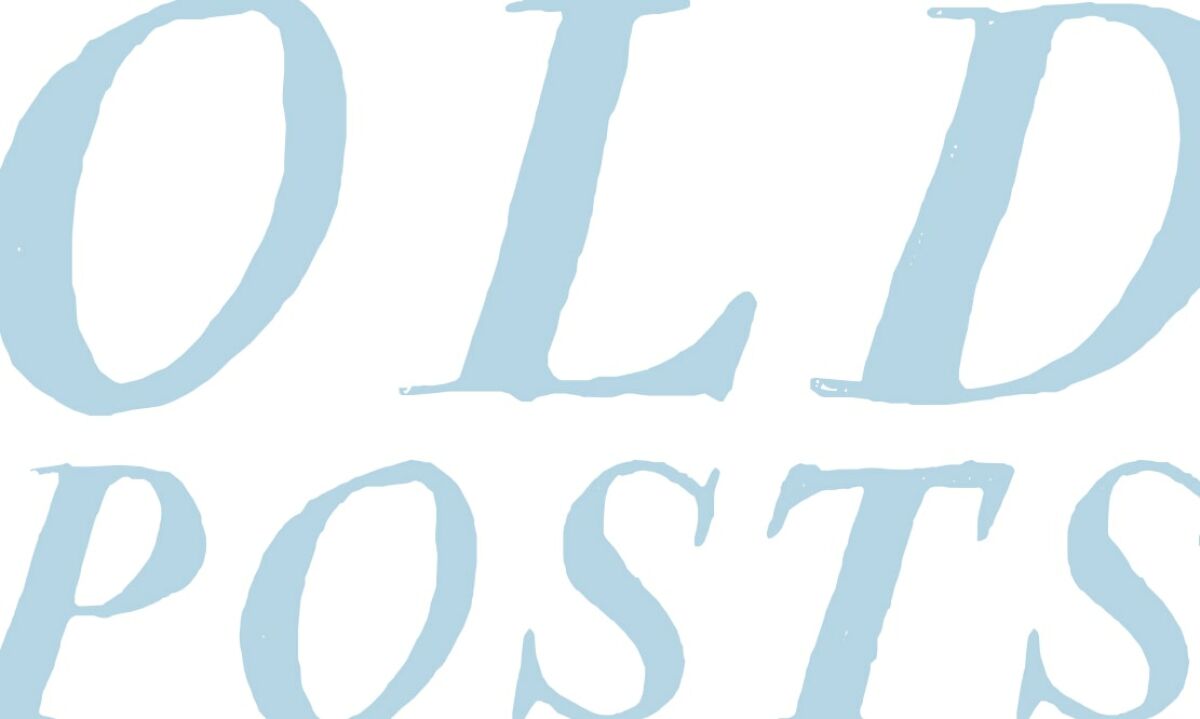 Charles Brock: Facing Out
WRITTEN BY: Ian
December 29th, 2011
---
Several years back, when I was a young, naive book designer launching my freshman book design studio, my partner Alan Hebel and I made several passionate attempts at carving our names out in the industry. One marketing strategy was attending the BEA (Book Expo America) and renting booths in order to display our work. Our hope was to catch the eye of prominent publishers and shake some trees from the ground up. It was quickly apparent that the BEA was not quite the forum for that type of tree shaking, and eventually we did it the right way: Do good work, call the folks you really want to work with and harass them relentlessly (or something like that), and send a few gift baskets here and there on the holidays. But mostly, we had to pay our dues and prove ourselves with simple, hard work…

It was on one of these BEA trips that we had the fortune of meeting Charles Brock, the owner of The Design Works Group (presently known as- Faceout Studios). Now I want to put it all in perspective: To us and our little 2-3 team studio, Charles' company was EVERYTHING we wanted to be. The idea of a vibrant studio cranking out some of the nicest looking books in the industry (and able to support itself solely through book design), was something of a coveted position. Meeting the mastermind behind the curtain was nothing short of an honor.
Forward to 2011…I still deeply admire Charles' work and his commitment to superb book art. He knows how to hire and inspire the folks at his studio. From everything I've heard about Faceout Studios, and the few photos and videos I have seen, it seems like one of the better places in the world to work. Incidentally as of recent, even my wife, after editing this interview, expressed a desire to work for the man. What the hell's this guy got that I don't have…?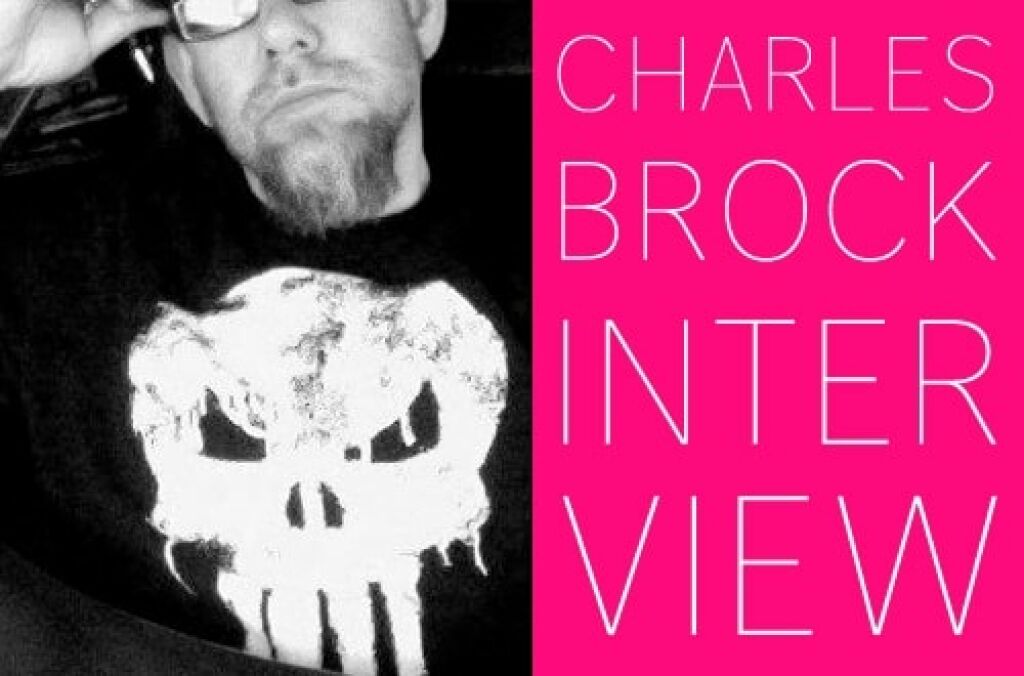 Tell me a little bit about your childhood…where you grew up and whether or not art/design figured into your developmental years.
I grew up outside of Tulsa, Oklahoma, close to Mounds (not that anyone knows where that is, kind of out in the middle of nowhere). I wasn't really a country boy even though we lived out in the country. Most of my time was spent pond fishing, riding bikes, exploring with my brother and our dogs, and playing with BB guns. When I wasn't outside, I spent most of my time listening to music in my room. We were fanatical about KISS and AC/DC. Lots of air guitar concerts on our beds.

I never thought of myself as artistic. I had an appreciation for art, but didn't feel like I had the talent. My mother was always doing creative things, though. She would take painting classes, and there were always some of her paintings up in the house. One of my favorite memories was my mother painting KISS portraits for my brother and I. She painted one of Peter Criss and one of Gene Simmons based on the solo albums from 1978. They were painted on small pieces of thin board. We were amazed. I remember showing it around school to all my friends.

My love of music was probably the beginning of my interest in art. I spent many hours sitting on the floor in my bedroom with headphones on and studying album cover art and design. My spiral notebooks for school were always covered in my attempts to draw the logos of my favorite bands.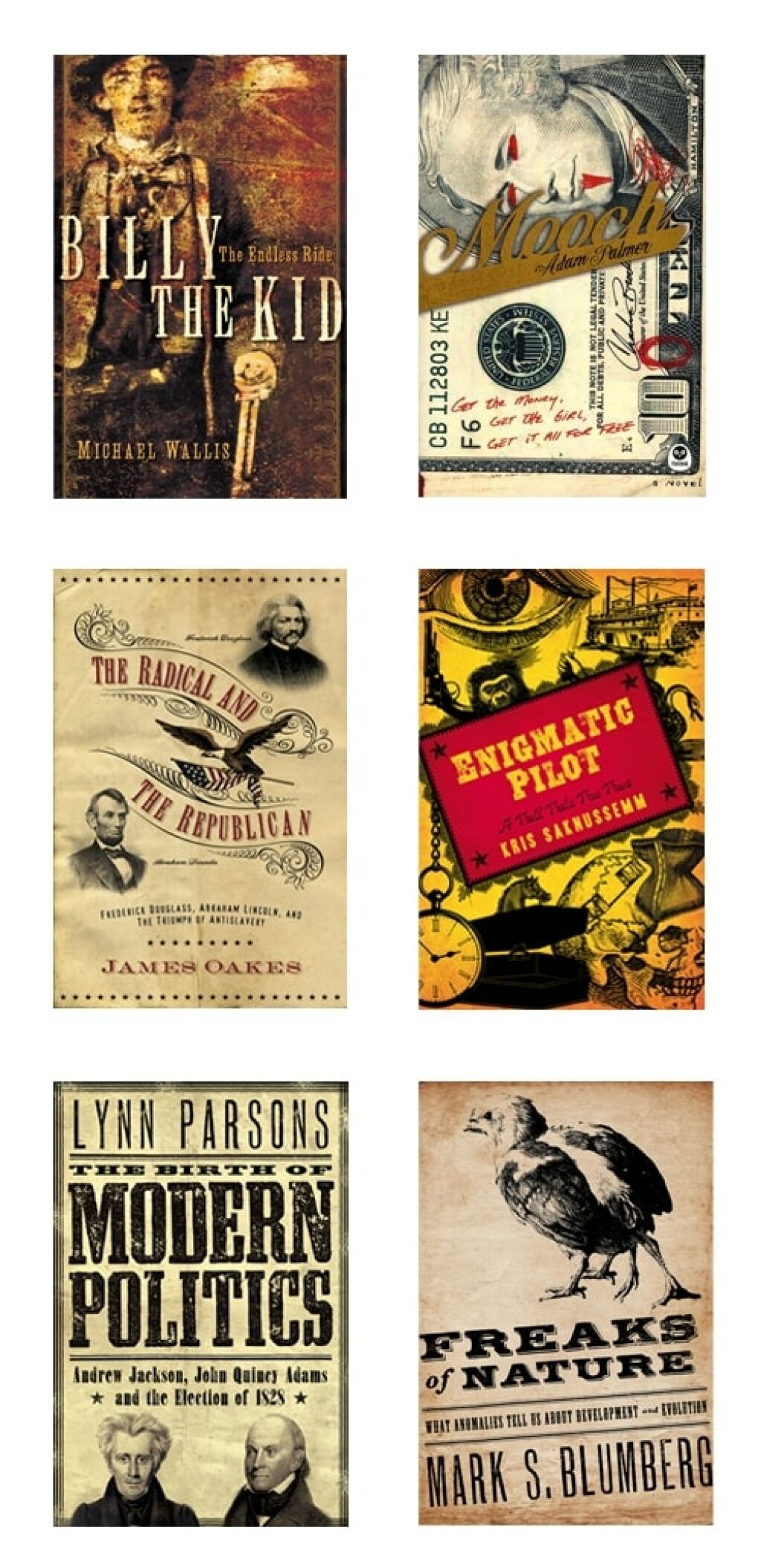 Give us a little background on how you started doing book-cover design. Could you name some of your design inspirations and influences?
I received my graphic design degree from Oklahoma State University - Okmulgee in 1996. I got a later start than most. I was 28 when I started my first design job. Some of my early design inspirations were Dave Mckean, David Carson, and Modern Dog. Dave Mckean's Sandman comic book covers where hugely influential on me. The stuff he was doing was so different than what I had seen on other comic books. His use of typography and photography just blew me away. The Raygun magazines designed by David Carson were another great influence. I was able to see him speak at an art directors' meeting during my senior year. I was dealing with a lot of stress and pressure with school and was questioning if I even wanted to be a designer. David was very encouraging. His words helped me immensely. Another person that affected me was Michael Strassburger from Modern Dog. Michael's  perspective and outlook is one I adopted myself. He basically said, forget what's "in" and what's "out". Do what you love…do it the best you can, and forget about what everyone else thinks. Up to that point, I don't think I trusted my capabilities or my eye. This was a great step forward for me.

What were some defining first jobs that sealed your fate?
I've always been a book fan and an avid reader for many years, but I never considered book design as a career. My first job out of school was at a small shop in Tulsa with Randy Miller. Randy did lots of packaging jobs and designing books was also a part of that. Randy really helped me with having a better understanding of the software, especially Photoshop. After working on my first book cover, I was hooked. I decided that was what I wanted to do. My next job was with Diane Whisner. Her studio focused primarily on books, which greatly appealed to me. My time with Diane was a great experience and I learned a lot about designing books while working with her studio. After taking the job at The Design Works Group, I learned a ton from observing David Uttley, Kirk Douponce, and Chris Gilbert. David taught me to always ask myself if my design could be better. That was huge for me.



Faceout Studios which is operated out in Bend, Oregon was originally The Design Works Group—how did that evolution transpire?
David Uttley started The Design Works Group about 15 years ago. He originally worked for Multnomah Publishers, which was located in Sisters, Oregon. About 5 years ago, my business partner Torrey Sharp and I bought the business from David. He was looking to retire and pursue other avenues of his life like photography and mission trips.

What triggered the renaming of The Design Works Group to Faceout Studios and the obvious face lift on all counts: new studio space, new websites, new everything?
We wanted to register our name, and we couldn't comfortably do that with the original business name . There was another Designworks Group and many variations of the name Designworks, all pertaining to the graphic design field. Once Torrey and I took over the business from David, we decided it was time to work on a new name. We liked the name Faceout because of the obvious nod to book covers, but we also wanted to put our "face" out there in the industry. We are about our people, and we don't want to hide them away. We want the industry to know our names, personalities, and what makes us tick.

The studio move was something we had been wanting to do for several years. Everything just kind of fell into place, and we got a great space in Bend,Oregon. We wanted to be in Bend so we could connect more with the local design community, plus most of our people live in Bend.



Faceout is an amazing company. You have positioned yourself as an all-service book design shop, and your various websites are a testament to this. How much of your work load is actually outside of book cover design?
Very little, actually. We love books and publishing, and that is where we focus. We occasionally do other things if they are interesting, or if it's for a good cause. We've done some fun branding jobs like Bend Brewfest, Les Schwab Amphitheater, Kabum Coffee and others. Most recently, we have stepped into the world of film and started producing book trailers for clients. That has been fun.

What is the dynamic you have with your employees as the co-owner of Faceout? How do you distribute the workload?
I feel like I have a great relationship with all the employees, and especially the designers. We've worked really hard to create an open and safe creative environment. Everyone is very helpful and encouraging to each other -no crazy ego's or unhealthy competition.  We try to distribute the work in a way that everyone has a nice mix of projects. We take pride in our ability to be well-rounded. Our designers can take any kind of book project and deliver a great presentation. I'm not a fan of style, so we do our best to keep the designers on their toes with all types of book projects.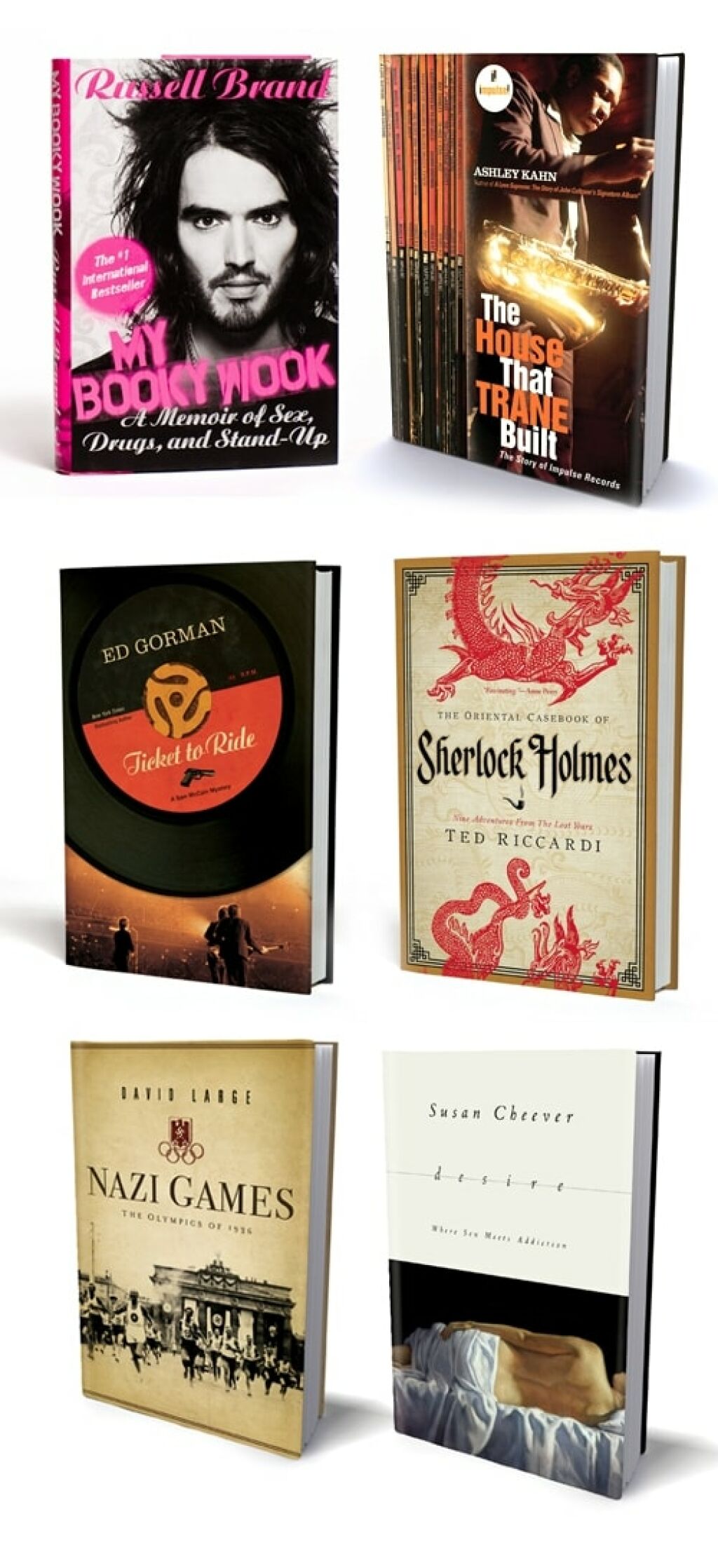 Do you all feed off each other, or is everyone's "design time" very private?
I would say both. We all feed off each other more often than not, but there are times when we have our headphones on and crank away by ourselves. It just depends on the project and the designer.

How does the turnover of senior designers affect the studio's output?
It's a fact of life in this business. Even with a great crew, we have to be prepared if a senior designer decides to leave. We made a decision early on to hire the most talented people we could find and give them an environment they could grow and prosper in. In doing that, you help people to hone their craft and build their confidence. That can lead them to want to strike out on their own.  People move on and life goes on. We do all we can to have a healthy parting. Our studio is more than just a business, it is a type of family. When someone makes the decision to pursue other things, we are happy for them and do what we can to help them. We still have good relationships with our former employees, both professional and personal. It would be easy to feel bitter about all the former employees that went out on their own and are now our direct competitors. Instead, we choose to be proud of all the talented people who came through our studio, and continue to be proud of the great work they do.  We have also had great success with our internships, which has helped us identify young talent.



Both you and Faceout Studios have won many awards and rightfully so—has this fostered new business for you?
That's hard to say. I'm sure it has, but its hard to track that kind of stuff. It gets us recognition, and that's a good thing. Awards are fun and they can help you get through a bad day, but they aren't really that important to our clients.

What are some key book cover projects that you feel put you on the map, personally, and as a studio?
I would have to say The Ragamuffin Gospel: Visual Edition was well received in the Christian community and a Michael W. Smith book called Healing Rain. It had a cool liquid emboss on it. As far as the ABA (American Booksellers Association) market goes, I would say Widow of the South was a really big book for me. It was on the New York Times best-seller list. I remember they passed out copies of it at the ABA that year, so a lot of people saw it. Another project would probably be The House that Trane Built.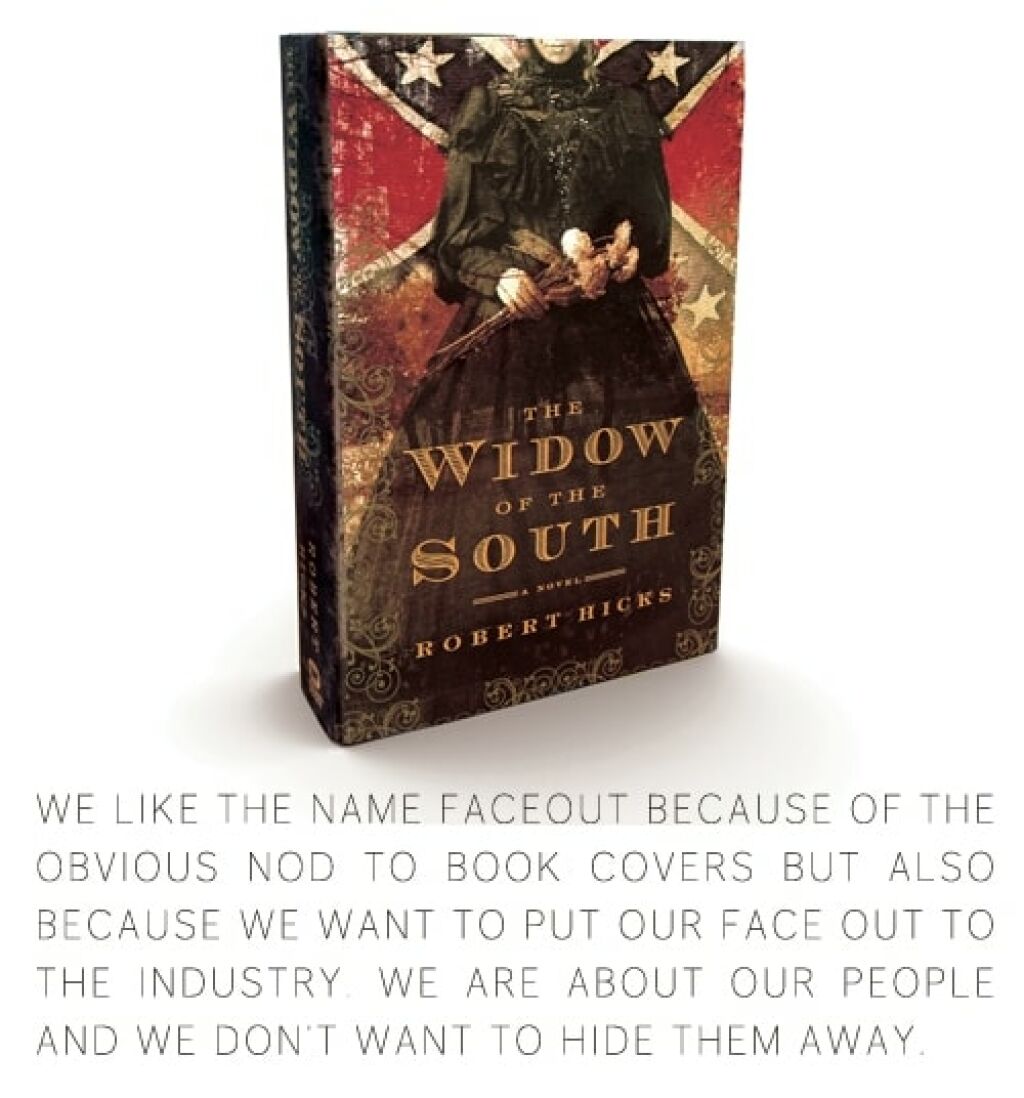 Is there a monograph in the works at Faceout? By now, your studio must be ready to showcase some amazing work for the rest of us to drool over.
Haha, you know we have never even talked about this. We are stuck up here in Central Oregon and it's hard to imagine anyone even thinking about what we do. Someday maybe.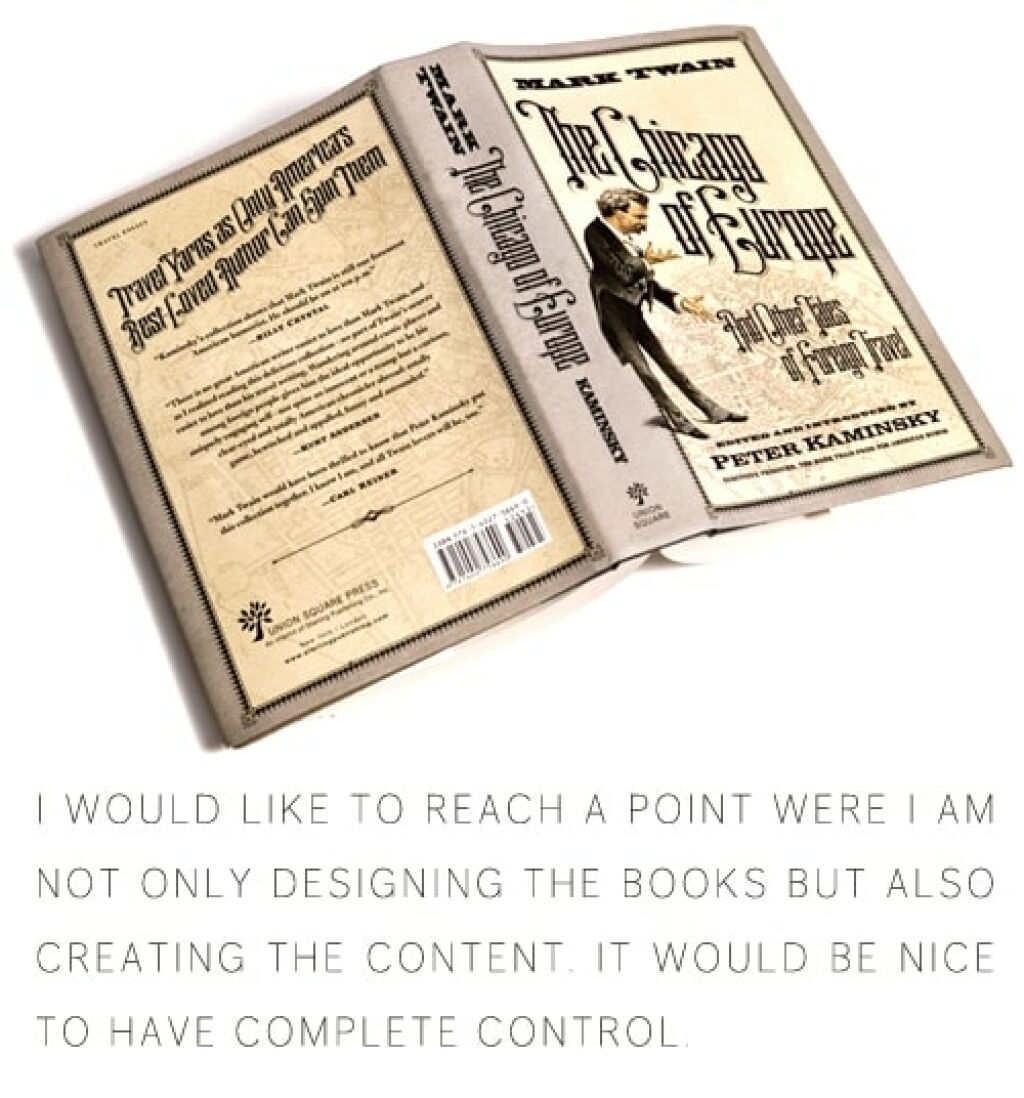 Is there an official "first" book cover that you personally have designed?
Wow, you know I'm sure there is and you would think that would be burned into my memory, but I can't remember it. I should look into that. I'm not sure it would be anything I would want to show, though.

You have worked on so many different types of books. Do you have a genre that you especially enjoy designing for?
Personally, I'm a reader of crime fiction and horror/sci-fi, so because of that, it's always fun to work on those kinds of projects. I also enjoy history and literature books. University Press jobs are nice too, because they don't typically need a big commercial look.

How do you store all of the books that you have worked on? Are they at home on a shelf, face out or spine facing out?
I have bookshelves in my office. I've tried to be good about getting copies of books I'm proud of, (publishers aren't very good at sending us copies), which means we usually have to buy them for competitions or our own library. My display is kind of a mess, though. I should work on it.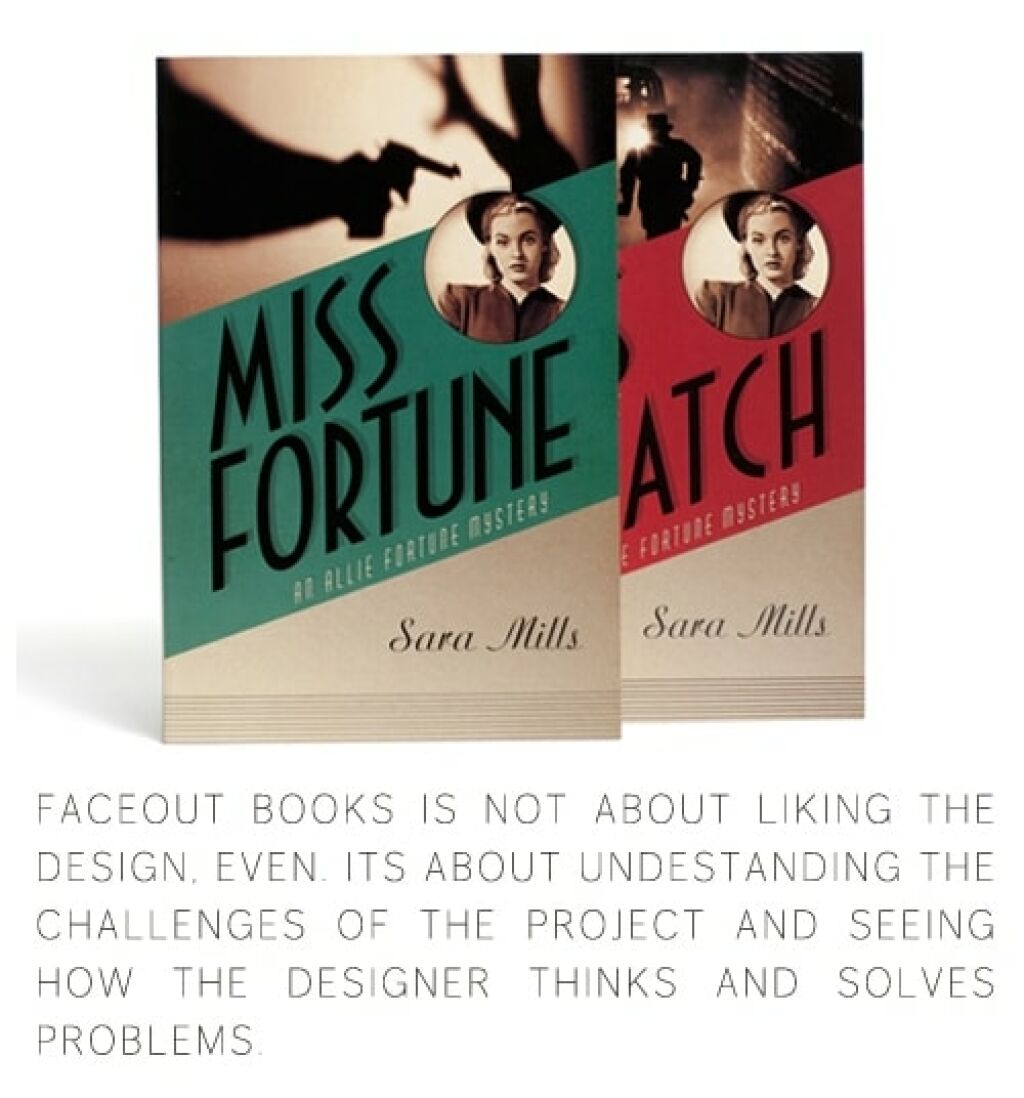 Lets discuss your personal process a little. Do you work primarily on the computer or other mediums? When do you know when you've "nailed" a book cover?
Primarily I work on the computer. I think better and work quicker on it. Anyone who says you have to put it all down on paper before you move to the computer, has no idea what they're talking about. I'm not saying it doesn't work for some people, but if you think that is the only way to work, you are wrong. I rarely do any thumbnails or sketching. My sketching is all on the computer.

I don't know if I've ever known for sure I've nailed something. There have been times when I thought I did, but the client didn't seem to think so. It is a great feeling when you feel like you have nailed it and the client agrees. We do a lot of work in our studio and we have to manage our time well, so when we have pure design time, we can maximize it. It can be frustrating when you know a design could be better if you had more time to work on it, but you just have to do the best you can with the time you have, and move on to the next one.

On average, about how many comps do you end up presenting to a client after all is said and done? I ask this mainly for myself, as I am in the horrible habit of presenting one too many.
Three is average. Sometimes four. Three is plenty, I think. After three the ideas and designs aren't usually as strong. I would rather spend time trying to perfect three than coming up with more.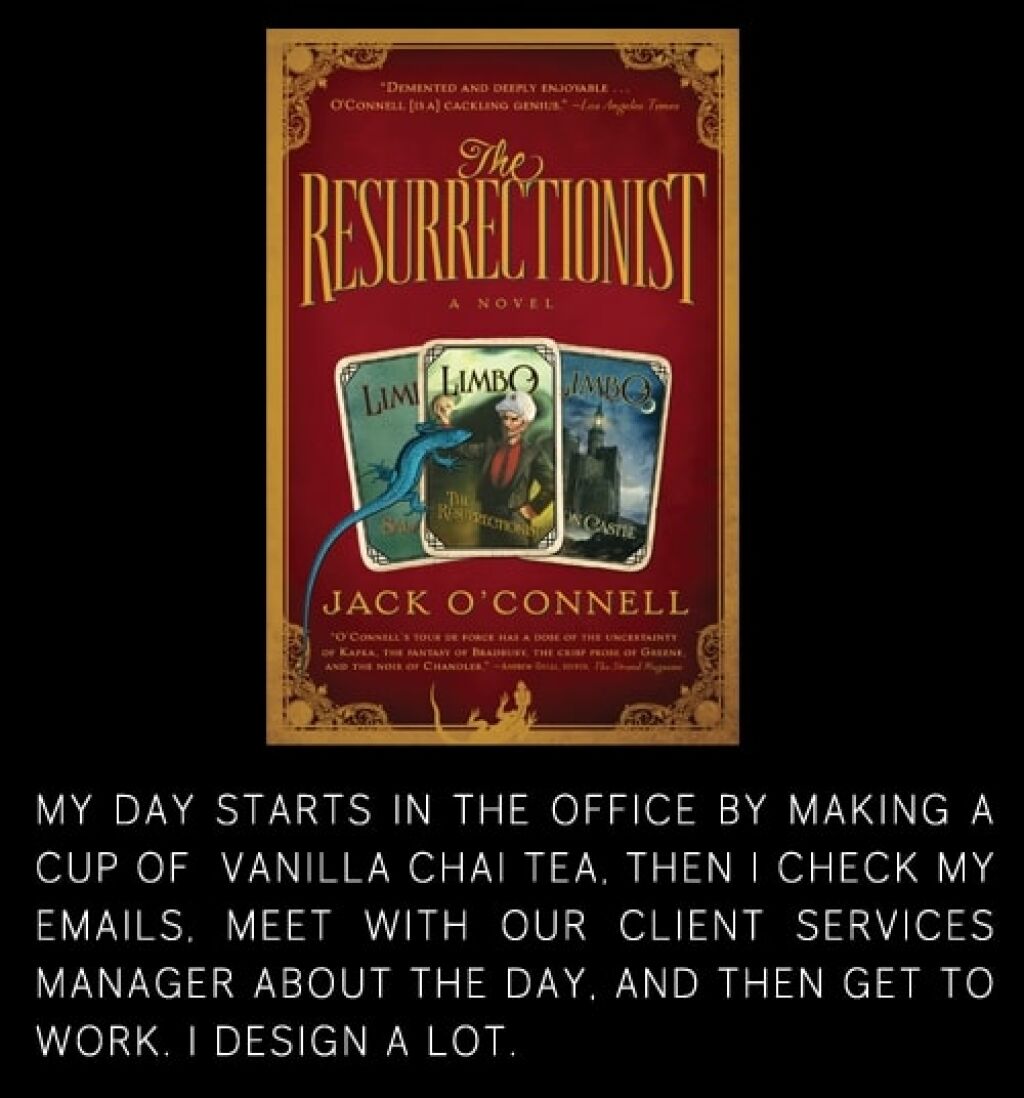 Give us a break down of what a "Brock" day looks like. Do you have a specific routine? Under what conditions do you do your best work? Lets start with where you live and work…
I live in Bend, Oregon. My house is about a 4 minute drive, or a 20 minute walk from our studio.
My day starts in the office by making a cup of  Vanilla Chai Tea, then I check my e-mails, meet with our client services manager about the day, and then I get to work. I design a lot…I do almost as many projects as the other designers in the studio. I love designing books and that is where I want to spend most of my time. I usually have several business-related meetings throughout the week, but most of my day is designing in my office. Good music, vanilla Dr. Pepper with crushed ice, no e-mail, no phone, and no interruptions are the best working conditions for me.

How do you stay inspired? What are your hobbies that are somewhat removed from your work that help you balance your life?
I'm a big fan of design, so I am always looking at stuff. Sites like Pinterest, FFFFound, Tumblr and Design Related keep me inspired. Some of my hobbies are photography, comics, and ThreeA Toys. I recently got invited to participate in a custom vinyl toy show based on ThreeA toys. I've only done a few, so I am learning a lot on this one. It's been very enjoyable and I hope to do more of it.

Your personal work has a wide range -how much of your extracurricular art do you use in your actual book cover design?
Not much at all, actually. I wish I could incorporate more of my photography into my design, but it's pretty abstract stuff and doesn't work for most projects. It doesn't bother me though, because photography is my own creative venture. As a designer, I think it helps to have a creative outlet outside of your job. It helps to keep me sane. No one can tell me to change my photographs.

Your blog, Faceout Books, seems to have come on the scene somewhere around the time covers.fwis.com started to become a book design blog of extensive, useless critiques. Is there some relation to this?
Jason Gabbert and I had been discussing a blog for a while. We had started thinking about it after discovering the old Osprey blog. Then FWIS came along and I think that prompted us to move forward. FWIS was entertaining but also very frustrating. There were a lot of critiques from people who had obviously never designed a real book cover. I just kept thinking, "I don't care what these people think, what was the designer thinking?" We thought it would be more interesting and more helpful to have some insight into the designer's process. Faceout Books is not even about liking the actual design. It's about understanding the challenges of the project and seeing how the designer processes and solves problems.

Faceout Books is a great resource for designers. Personally, I have probably over-commented on the site, as I tend to do on most book design-related blogs. Do you ever envision creating a book compiled from all the blog posts?
We have discussed this quite a bit. I think it's a great idea. We just want to make sure we move forward with it in the best way possible. Your comments are always welcome, Ian.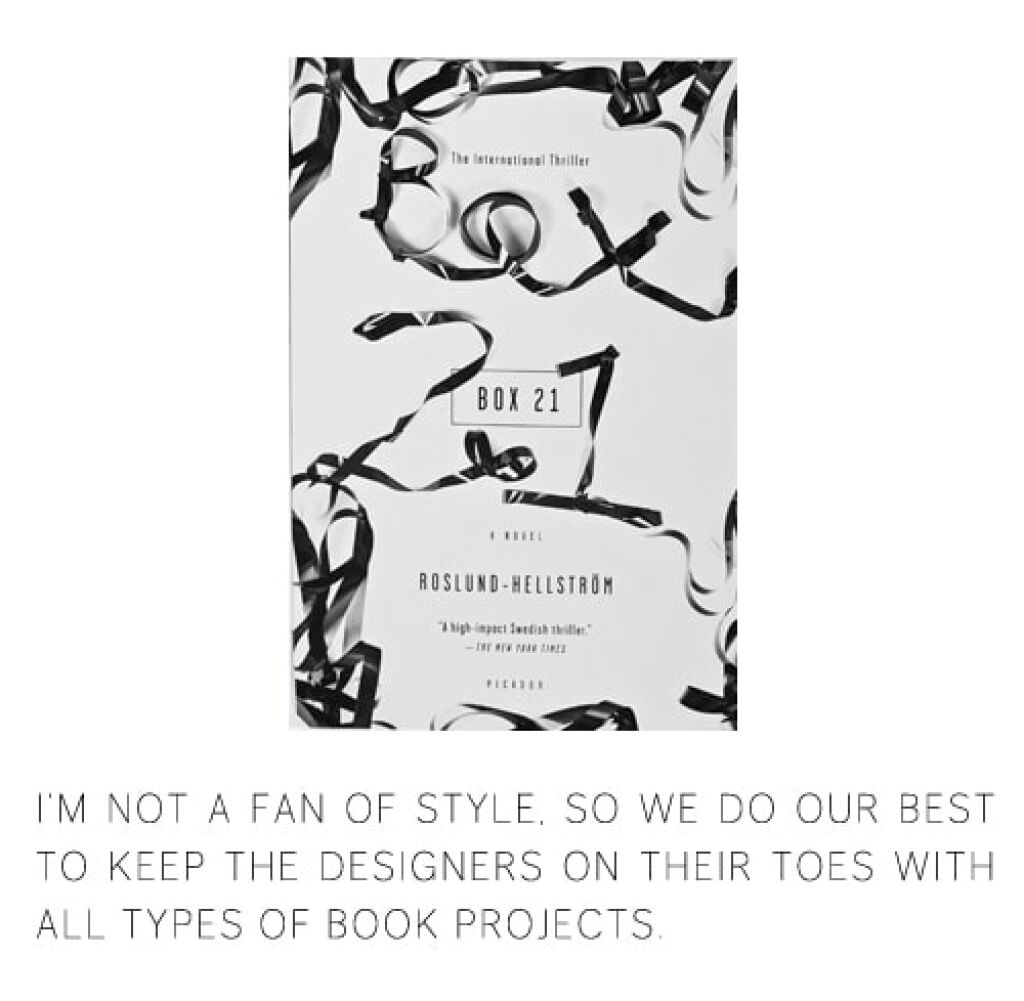 Who are some of your favorite Publishers/ADs to work with?
Now, now, Ian. You know I can't answer this. We are grateful for all our clients. That being said, I think my favorites know who they are.

Who do you feel is doing truly phenomenal work these days. This is your chance to shed light on some unknowns, as well as, people you truly admire that we may, or may not, be familiar with.
Besides Tim Green and Jeff Miller, who I work with every day, the big ones for me are Peter Mendelsund, Chip Kidd, Henry Sene Yee, and Rodrigo Corral. As far as "unknowns", I don't know if they are unknowns, but I love the work that The University of Chicago Press does. Isaac Tobin, Natalie Smith, Matt Avery and Jill Shimabukuro consistently amaze me with their books. Also, Matt Roeser is doing some great work. But really I am constantly inspired by all my book design brothers and sisters. I feel bad by not listing all of them because I'm always looking at what everyone is doing, and it truly inspires me.  It really feels like the community has come together in the last five or six years. The NYC book designers have always been a tight-knit group, but because of social networking sites and sites like Design Related, I think people from all over have been able to connect. I don't know if it is a result of that, but it just seems like book design gets better and better every year. It feels like the best book designs ever are being done right now. That's exciting. You are doing some amazing work too, Ian. You constantly impress me.

Has the economy (or simply the state of publishing and the shift to digital media) affected what publishers are looking for? Do you find that publishers are more conservative in their expectations?
We haven't really noticed it. I think, in most cases, the publishers are pretty conservative. There aren't many out there willing to take a risk. In design school they told us if you want to grab someone's attention, you look around at what everyone else is doing and then do the opposite. As designers, I think we all want to do something different with the project in front of us. Unfortunately, publishing seems to be more about following and fitting in. I can't tell you how many design briefs I've got where they've told me to make it look like Tipping Point or some other best seller.

So I noticed you recently bought a Nook. I also have an iPad because we deal with a high volume of self- publishers who always need e-books, which we now offer. I needed a device to review the books on the reader. What's you're excuse, oh destroyer of the kindle?
Haha, if I remember correctly the first time I met you was at a BEA in L.A. You had a booth across from the Amazon booth and you were giving away obscene buttons directed at the Kindle. That was funny. As book designers we have to be familiar with the technology and possible future of the industry. We got a couple of e-readers several years back. I used a Sony for reading manuscripts, which worked wonderfully. Much better than carrying around a rubber banded ream of one-sided paper. That is pretty much all I've done with it. The touch option of the Kindle enticed me to take a closer look; there was some content I wanted to read that was digital only. I actually bought a Kindle Touch and got pissed that it had ads on it. I returned it and bought a Nook Simple Touch. It works great. I will still read physical books most of the time. The Kindle video was for an AIGA event. Anyone who knows me knows my sense of humor. That was all for fun. I got called a Luddite among other things for that video. I was amazed at how many people didn't see the humor in it.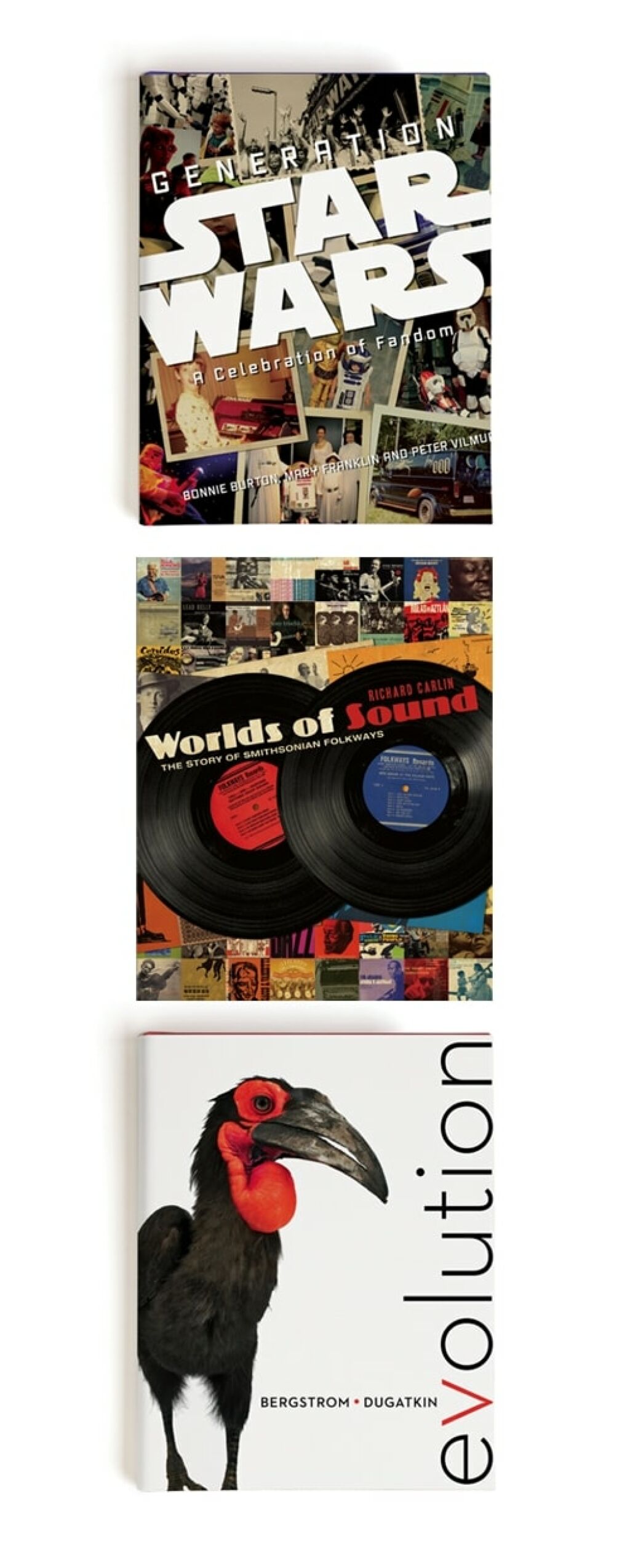 In a nutshell, what do you think is going to happen to the publishing beast? Do you mind the notion that you might one day be designing book covers for digital devices or for books that might never meet paper?
This is such an interesting topic and one everyone wants to talk about. I usually look to the music industry for clues on what might happen in publishing. I think with technology and the internet it has become much easier to self-publish and sell books without the need of a traditional publisher. I'm afraid publishers will have to reinvent themselves if they want to survive. I think designing covers for digital books is something we will all be doing more and more of. That doesn't really bother me. Digital books will still need some kind of image representing it for marketing purposes. I will be glad when we get past this, "It has to be readable as a thumbnail on Amazon." idea. I don't buy that at all. People don't shop on Amazon like they do in a book store. As for the printed book, I think it will be around for many years. The last three years I have been a member of the judging panel for the Beauty of Books in China. It has been a wonderful experience and very inspiring to me. They approach the book as a whole, not just the  cover and they treat books as works of art. I believe this philosophy is what will keep the printed book alive alongside digital books. I think the future of the printed book will be of a higher end, higher quality work of art. People will buy something they will want to showcase in their home.

Where do you see your career culminating in the future? Are you in this for life or do you see yourself sipping organic carrot juice on some beach somewhere?
I believe I'm in it for life. I'm very blessed where I'm at and I don't have any desires to leave it…and I'm not a big fan of carrot juice. I would like to reach a point were I am not only designing the books, but also creating the content. It would be nice to have complete control.

In closing, is there any advice you'd like to give to aspiring book designers or graphic design students in general?
Confidence is great, cockiness is not. Always be open to learning and getting better no matter how long you have been designing. If you aren't growing, you are dying. Also, once you figure out what you want, go after it. Don't sit around and wait for amazing things to happen to you. Make amazing things happen.

Thank you so much for your time, Charles, and your contribution to the legacy of great book cover art and illustration. I hope to see your work proudly displayed in bookstores for years to come.
Thanks so much Ian. I'm really honored to be interviewed by you. Keep up the good work, my friend.